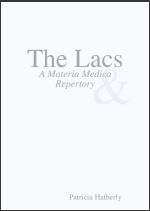 Table of Contents for "The Lacs A Materia Medica & Repertory"
Lac Asinum
Lac Cameli Dromedari
Lac Caninum
Lac Caprinum
Lac Delphinum
Lac Equinum
Lac Felinum
Lac Humanum
Lac Llama Glama
Lac Leoninum
Lac Loxodonta Africana
Lac Lupinum
Lac Macropi Gigantei
Lac Maternum
Lac Oryctolagus Cunicilus
Lac Phoca Vitulina
Lac Suillinum
Sus
Lac Vaccinum
Lac Vaccinum Defloratum
Please feel free to download the Preface. It will give you an good introduction to the book and the complexities of The Lacs as a Kingdom.
The repertory section of the book has been edited and all rubrics are now graded and two new milks, that of the Sri Lankan elephant and that of the sheep, have been added.
Those of you who prefer software to using books can now find my work in Complete Dynamics; Zeus (Radar); Synergy (MacRep) and Miccant.
The Lacs: A Materia Medica & Repertory is available at your favourite homoeopathic bookstore or online here; and the Repertory of The Lacs software is available from Complete Dynamics.
Recommendations:
I have been looking forward to a book which would cover all the existing info of the Lacs; a most deep acting group of the animal remedies. One of the few people in the world who would have the competence, knowledge and drive to do this is Patricia and she did it - so thank you very much, Patricia.
In the production of this collection of Lacs, Patricia has gone back to the source material in Animal Mind, Human Voices and other Lac provings and her attention to detail is impressive.
This work is the most comprehensive opus on the Lacs. The book will not only help all those doing research on the Lacs, but will help finding the right remedy for a patient when a Lac is being considered, a much easier task. It is a work which I wholeheartedly recommend.
This is a monumental book ... a priceless work ... an indispensable volume
This is a thorough piece of research, well presented ... a great resource which I would whole-heartedly recommend.
Patricia Hatherly's book is an extensive work... a comprehensive documentation ... a colossal contribution to our repertoire of treatment options, bringing, as it does, so many of the milks into one volume.
This is a work of artistic analysis with simple but elegant presentation; a rare combination.
...an impressive and comprehensive compendium... indispensable to pinpoint the appropriate Lac... text is organised in a visually appealing fashion...easy to read.
The Lacs: A Materia Medica & Repertory is currently the definitive reference for milk remedies; as such it is, in my opinion, a must addition to all practicing homeopaths' libraries.
...a beautifully presented book...a wonderful resource... I thoroughly recommend this as a valuable addition to homeopaths' materia medica libraries.
Hatherly's book is a doorway into understanding milk energies as expressed through different mammalian experiences in our world, and is the single best resource for understanding these essential remedies. Useful as a reference, yet accessible with casual reading, "The Lacs: A Materia Medica and Repertory" is a fun, stimulating and thorough exploration of the milk remedies. With almost effortless reading it builds a solid foundation for identifying and successfully implementing these essential remedies in practice.